WE SPECIALIZE IN
FAITH-BASED DEVELOPMENTS
National Standard Abstract has quickly established itself as a leader in faith-based development. Our knowledge in the field allows us to successfully navigate the legal issues and unique challenges associated with them. Our expertise in the field and understanding of faith-based developments and developers is unmatched, and we structure every project to deliver the greatest value for its community.
$274 Million in faith-based developments closed in 2018
Who can Order a Title Report
NSA's Notable Faith Based Transactions
"Religious Congregations take a leap of faith when they collectively and consciously decide to provide a housing ministry to the community. Because of the unique challenges that faith - based organizations face not only as landowners but when building a new sanctuary or a mixed-use development, it's tantamount to have experts guide organizations throughout the entire process. National Standard Abstract's Team has proven themselves to be the experts needed on a large scale and complex faith- based development projects. We highly recommend this firm to provide title insurance for Faith- Based organizations."
Bishop Hugh C. Nelson,
EAST FLATBUSH CHURCH OF GOD - BROOKLYN, NY
Ebenezer Plaza Development is a three-phased project consisting of two city blocks in the Brownsville Section of Brooklyn, New York. The development will total 531 units of affordable housing, 40,000 square feet of community facility-religious use and 25,000 square feet of retail and commercial space. Phase 1A is comprised of 197 units of fully affordable housing -60% AMI and below. Phase 1A will also be comprised of the community facility space owned by the Church of God of East Flatbush. The space will also include a 1,200-seat, state-of-the-art sanctuary, along with greater space for expanded community services including soup kitchen, food pantry, educational programs for adults and children, computer training and family counseling.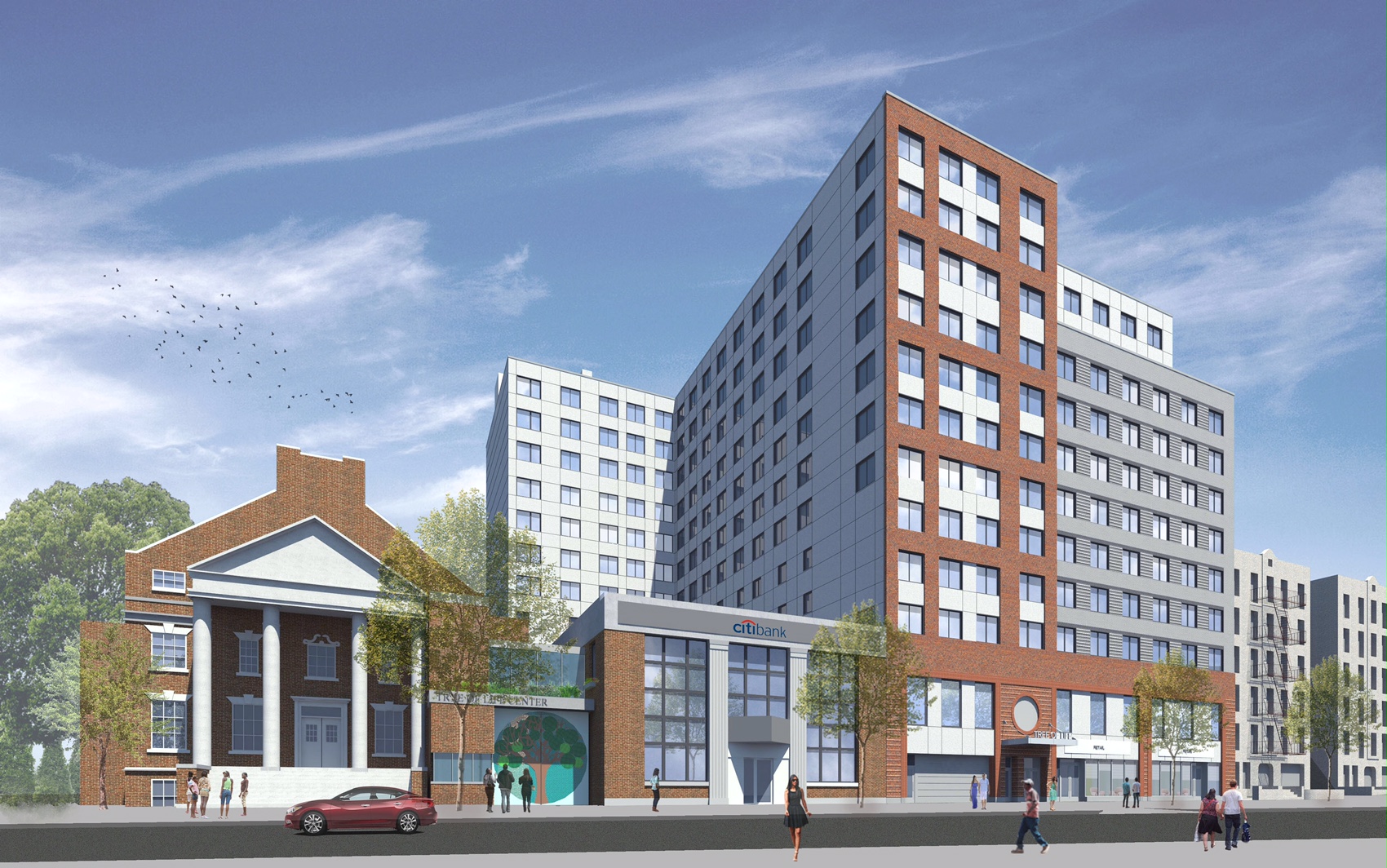 "Churches are blessed with the stewardship of property created as a legacy by previous generations.
It's imperative that pastors and church leaders get a comprehensive understanding of the history of the church owned property early in the development process so that they can identify and address challenges that may be impactful on the project.
National Standard Abstract has the expertise to successfully navigate any challenges that may be identified setting up the church/religious institution for a successful repurposing of its property to fulfill its mission. We highly recommend NSA for your development project."
Reverend O'Connor,
FIRST PRESBYTERIAN CHURCH IN JAMAICA
The Tree of Life development is a mixed-use, mixed-income, residential-commercial-community development in downtown Jamaica, Queens. The development will participate in the New York City Inclusionary Housing Program, and will provide approximately 162 residential rental units affordable to households with a range of incomes from 50% AMI to 110% AMI. Up to 33% of such units will be inclusionary housing units. In addition, the project will include approximately 8,500 square feet of community facility space to be used by the First Jamaica CUDC for community programs and approximately 15,000 square feet of community-commercial space proposed for a health or related-services facility.
"As a real estate developer in affordable housing each development project we work on is very unique. I have used National Standard Abstract for my real estate development projects because their team is very responsive and well versed in the complexities of title-related issues that arise in affordable housing development transactions. Osei Rubie and his team at National Standard Abstract have done an exceptional job in servicing my real estate transactions."
Kenneth Morrison,
LEMOR DEVELOPMENT GROUP
The Robeson on Lenox is a mixed-use building in Harlem expected to have 79 affordable residential units across 72,108 square feet. The project will include 2,518 square feet of community space for the New Hope Spring Grove Downtown Baptist Church of Christ and 7,498 square feet set aside for commercial use.
Bishop Philius and Helene Nicolas Senior Residences (BPHN)
"National Standard Abstract has truly set the standard for the high level of title insurance service that a premier company should provide to their clients. NSA makes a commitment to their client to be at the forefront of the title regulations and all matter pertinent to real estate transactions. This is extremely important for churches and religious organizations in which leadership and managed ownership of the property usually changes over time. NSA has developed true expertise regarding properties owned by religious institutions and has been instrumental in closing our faith-based development projects."
Ericka Keller,
BRISA BUILDERS
The Bishop Philius and Helen Nicolas (BPHN) Senior Residence project will consist of 88 studio units. The project amenities include community room and common area space for residents, laundry facilities and on-site social services. An additional 10,575 square feet community service facility located on the first and cellar levels.
Harry T. Nance Apartments
"Religious Organizations sometimes choose the long-term ground lease option as the transactional mechanism for their development project, therefore it's important to choose a title insurance company that is well versed and has successfully closed various types of real estate transactions. To this end, we are thankful that National Standard Abstract was the title insurance company for our project and we highly recommend National Standard Abstract to any religious organization developing their property."
Reverend Vivian Grubb,
TRUE HOLY CHURCH - BROOKLYN, NY
The former site of True Holy Church in Ocean Hill, Brooklyn, will house a 67-unit affordable apartment building. The building will be named in honor of Harry T. Nance, True Holy Church's Pastor Emeritus who served from 1978- to 2006. A new 4,913 square-foot church sanctuary will be located on the ground floor along with a 1,672 square-foot community facility. The lower level will contain 4,802 square feet of community space.